2022 Mercedes-Benz A-Class Sedan
The all-wheel-drive 2022 Mercedes-Benz A-Class Sedan is a mobile device that'll really move you. Sleek and sporty, it responds to your driving passion. And its high-style, high-tech cockpit can respond to your touch, or even your voice.
The Mercedes-Benz A-Class Sedan comes available in two trim levels, including the A220 Sedan and A220 4MATIC Sedan.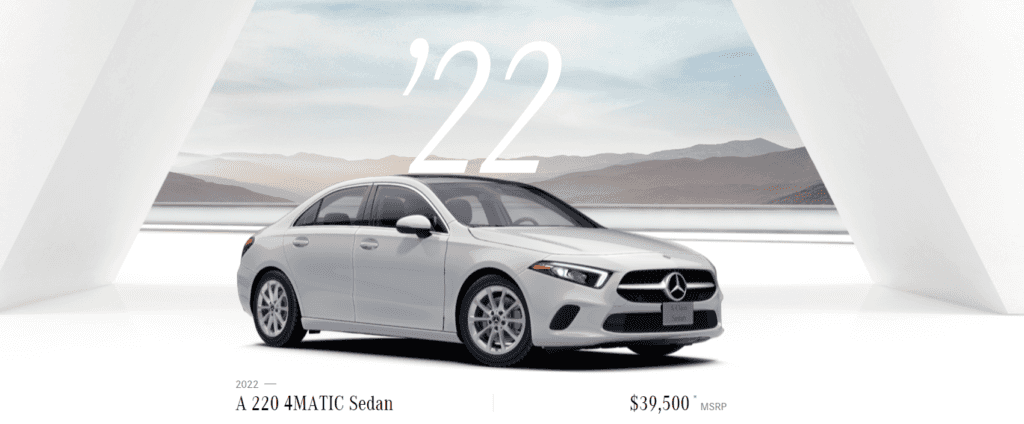 Sporting a Standard 2.0L inline-4 turbo engine, the 188-hp 2.0L inline-4 engine combines turbocharging with numerous advances to deliver more power from less fuel. Its rapid-multispark ignition and high-pressure Direct Injection can fine-tune themselves in milliseconds. Its twin-scroll turbo and CAMTRONIC variable valve lift help keep all 221 lb-ft of torque on tap from just 1,600 rpm. Clever CONICSHAPE cylinders slash friction to help reduce wear and fuel consumption. And a particulate filter helps make its emissions even cleaner.
A pair of shift paddles strategically positioned behind the upper steering-wheel spokes allows you to manually upshift and downshift the 7-speed DCT transmission with just a flick of your fingers. The racing-inspired 7-speed transmission combines the sporty response of a manual, the smooth refinement of an automatic, and better efficiency than either. Dual clutches offer quicker gear changes than a human can shift a traditional manual gearbox, while three overdrive ratios boost highway efficiency. Selectable ECO, Sport and Comfort modes let you favour fully automatic efficiency and comfort, intensified response, or shift-for-yourself excitement via the steering wheel-mounted shift paddles.
High-Style, High-Tech Cabin
The 2022 A-Class Sedan speaks its design language with a confidence that stands out in an overstyled world. Its lines are clean and flowing, designed to pair class-leading aerodynamics with a spacious cabin. The hood is wide and low, with crisp shoulders sweeping from the Star-centered grille and LED headlamps. Generously sized wheels emphasize its long wheelbase and sleek profile. And its details are elegant, modern and athletic, just like the sporty performance and advanced technology within.
Fine materials, forward-thinking technology and ever-fresh design unite in a cabin that's a cut above and steps ahead of ordinary small cars. Digital instruments and displays, touchpads on the steering wheel and console, and an industry-advancing voice interface enhance ease of use. Aircraft-inspired round vents and luxuriously contoured seats add to the premium feel. And standard luxuries abound, like heated front seats, a memory driver seat, and dual-zone climate control.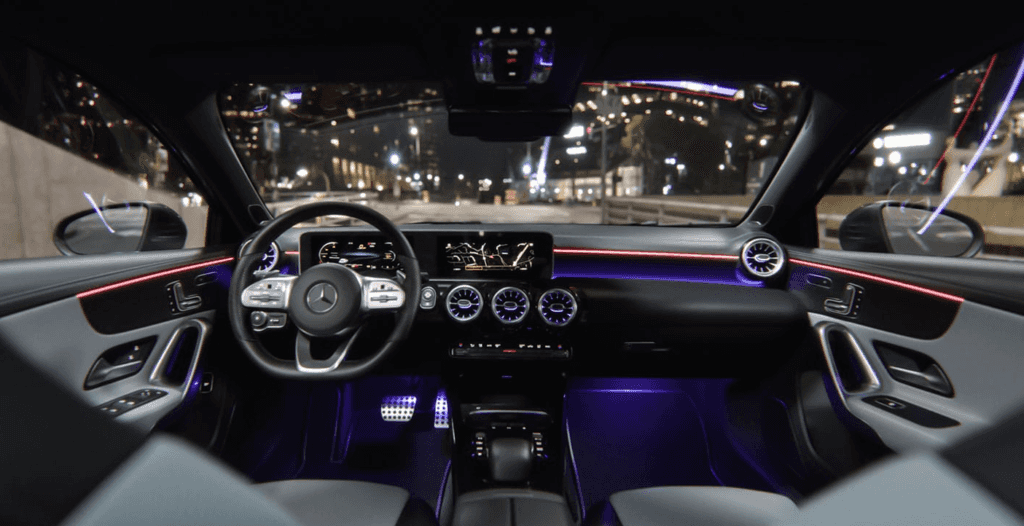 Offering sweeping skyward views to both front- and rear-seat passengers, the giant, fully functional glass panoramic sunroof features a large panel that can tilt up for ventilation or slide back for an open-air feeling. A power interior shade lets occupants vary the amount of sunlight entering the cabin, and you can even open and close it using the car's advanced voice control system.
Available in Sport Package & Night Packages is the optional AMG body styling. This offers an aggressively sculpted front air dam, flared side sills and deep rear valance team with 18-inch AMG wheels for a gripping appearance befitting the car's handling. The front apron's outer air intakes feature a chrome splitter (finished in black with the Night Package) and matte black slats to guide air to the running gear and around to the shapely side sills. Twin trapezoidal chrome tailpipes punctuate the distinctively sporty rear valance.
Mercedes-Benz User Experience (MBUX)
A leap ahead in automobile cockpit control, the Mercedes-Benz User Experience advances to the forefront of innovation. MBUX integrates digital in-dash displays including a touchscreen, touch-sensitive controls, Bluetooth® hands-free and audio streaming, and an available industry-advancing voice control system that responds to your everyday speaking voice and phrasing of commands. You can set up multiple user profiles of favoured settings, and groups of settings can be saved as themes or moods.
Two friendly words let you activate the voice control features of the Mercedes-Benz User Experience (MBUX). Just say "Hey, Mercedes" (or touch the voice control button on the steering wheel), and then tell MBUX what you'd like the car to do in everyday language, like you're talking to another person. Want the available MB Navigation to guide to a coffee shop? You can just say "Hey, Mercedes, I need a coffee" or ask it to find your favourite coffee chain nearby.
Vehicle software for many features can be updated over the air via Mercedes me, with no need for a visit to Mercedes-Benz Edmonton West. It's also one way the "Hey, Mercedes"-activated voice control learns new phrases to stay current with how people talk, in addition to its ability to learn how you speak as well.
Ready to get into the New 2022 Mercedes-Benz A-Class Sedan. Speak with our Mercedes-Benz Edmonton West Sales Specialists today in Edmonton, AB.