Mercedes-Benz EQS Sedan vs. Tesla Model S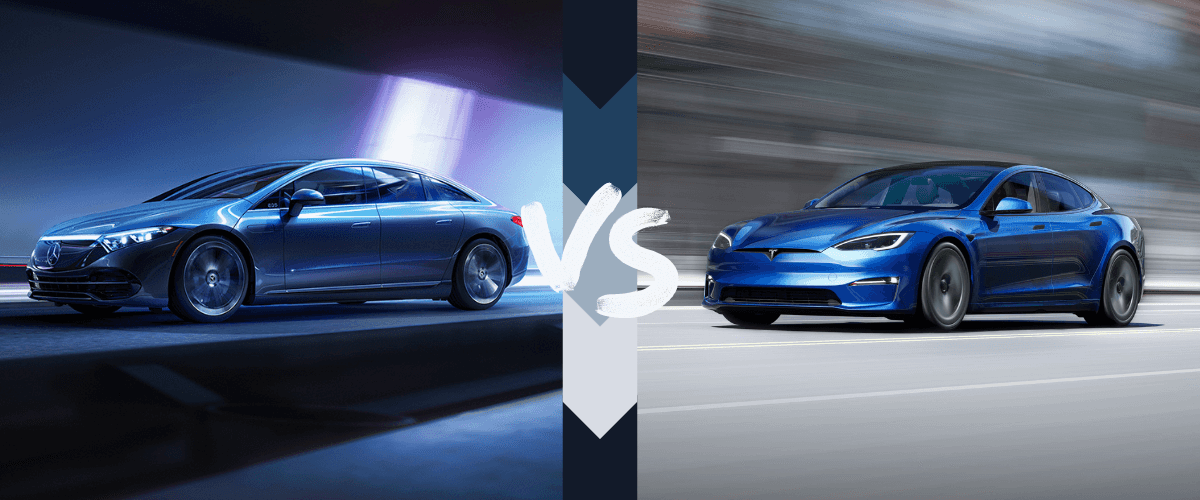 ---
Mercedes-Benz EQS Sedan vs. Tesla Model S
The 2023 Tesla Model S is quickly growing its list of competitors with the EQ wave hitting nearly every manufacturer, but the 2023 Mercedes-Benz EQS Sedan surpasses the Tesla in nearly all areas! If you're looking for an EQ that lives up to all of your expectations around luxury, quality, and innovative technology, you'll be pleased by what the new Mercedes-Benz EQS Sedan is offering. This comprehensive Mercedes EQS Sedan vs. Tesla Model S comparison by Mercedes-Benz Edmonton West reveals that Mercedes-Benz is truly at the forefront of luxury electric vehicle production and goes beyond the capabilities of its rivals. Continue reading or contact us to schedule a test drive today!
EQS Sedan vs. Model S: Pricing
Here is the base price information for both vehicles:
2023 Mercedes-Benz EQS Sedan

: $146,500 Starting MSRP

2023 Tesla Model S

: $135,000 Starting MSRP
While the Mercedes-Benz EQS Sedan base pricing is just a touch higher than the Tesla Model S, the features and technology that come with the EQS Sedan are worth every penny. Once the optional safety driving technology is calculated in, the Model S surpasses the EQS Sedan in pricing. That same driving technology is standard on the EQS, which means you can enjoy the luxury and safety that you are used to, with all the environmental benefits! Keep reading to learn more about what makes the Mercedes-Benz EQS Sedan stand out against its Tesla competitor. 
---
EQS Sedan vs. Model S: Performance
2023 Mercedes-Benz EQS Sedan
Wireless Apple CarPlay™
Wireless Android Auto™
Active Brake Assist
with Cross-Traffic Function
eCall Emergency System
Emergency Sos
Voice Control
with Natural Language Understanding
17-inch Tablet-Style Touchscreen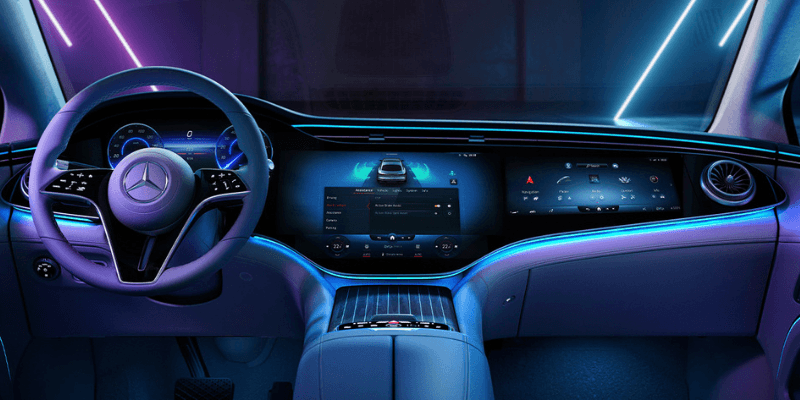 2023 Mercedes-Benz EQS Sedan Display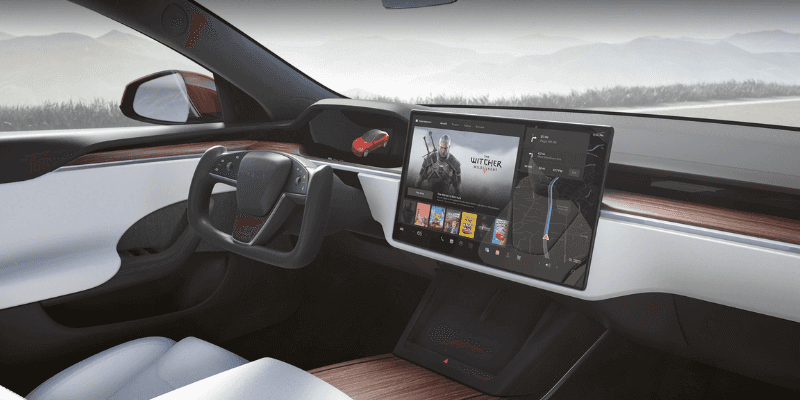 2023 Tesla Model S Display
EQS Sedan vs. Model S: Additional Safety Features
The Mercedes-Benz EQS Sedan pulls even further ahead when looking at overall safety with the PARKTRONIC Automated Parking Sensors that come standard on the EQS Sedan, but only available at an extra cost on the Model S. The EQS Sedan continues its reign of superior safety features with the Active Brake Assist with Cross-Traffic Function that also comes standard on the Mercedes-Benz. Rounding out the impressive safety features on the EQS Sedan, the Mercedes me App provides a wide range of additional benefits such as: Vehicle Locate, Remote Start, Roadside Assistance, Lock & Unlock, Google Home & Amazon Alexa connectivity, and Individual Maintenance Plans. Perhaps the most impressive feature of Mercedes me is its ability to map out your route for charging. Combine this with capabilities that allow you to use charging stations right through the app all across Canada, and you'll be able to seamlessly plan trips whether they are short or long! 
EQS Sedan vs. Model S: Luxury Features
If you thought the safety features alone made the Mercedes-Benz EQS Sedan a much better choice, then you'll be pleased to know that the luxurious innovations inside the cabin of the EQS are truly top-of-the-line! The technology inside is customized to serve every passenger in the EQS cabin. As it listens, it can tell who's speaking, and even learns your face and fingerprint. The EQS Sedan adapts to your habits, attends to your comfort, and anticipates your needs like no other vehicle or electric vehicle has before! Some of the most notable features on the EQS that the Model S doesn't have are listed below:
64 colours of ambient lighting that are completely customizable
Four-stage cabin filtration with a HEPA filter
Aromatherapy and seat massaging
Optional cooling front seats and 4 available different climate zones
Discover the 2023 Mercedes-Benz EQS Sedan Today at Mercedes-Benz Edmonton West
Ready to drive home in your new EQS Sedan in Edmonton? Head to Mercedes-Benz Edmonton West to let us put you in the ride of the future! Still have some questions? Feel free to call (780) 484-9000 in advance to book a test drive and get all your questions answered by our highly trained sales associates. Interested in trading in your current vehicle? Utilize our easy online trade-in form!